When I was a kid, we use to seine a local lake loaded with fatheads, then make a mad dash to the local river hoping the minnows we caught would survive long enough to cover us for a day of wade fishing for smallmouth.
But I left the minnow cooler at home the last time I headed to the river.
It was just 9 degrees when we left the truck and headed upstream toward a nuke plant outflow that keeps the west side of the river near 50 degrees most winter days.
The impact of that warm water is easy to see...as ice flows dominate the opposite shore. But there are other impacts that are not so evident. For one, there are regular insect hatches most days, and the smallmouth move surprisingly shallow to feast.
Fish activity levels are also high. Bites can be surprisingly aggressive and hooked fish fight hard, even jump, despite air temps that are low enough to cause frostbite.
The warm water is also welcomed by anglers, who find it comfortable for wading when layered for warmth below waders that don't leak.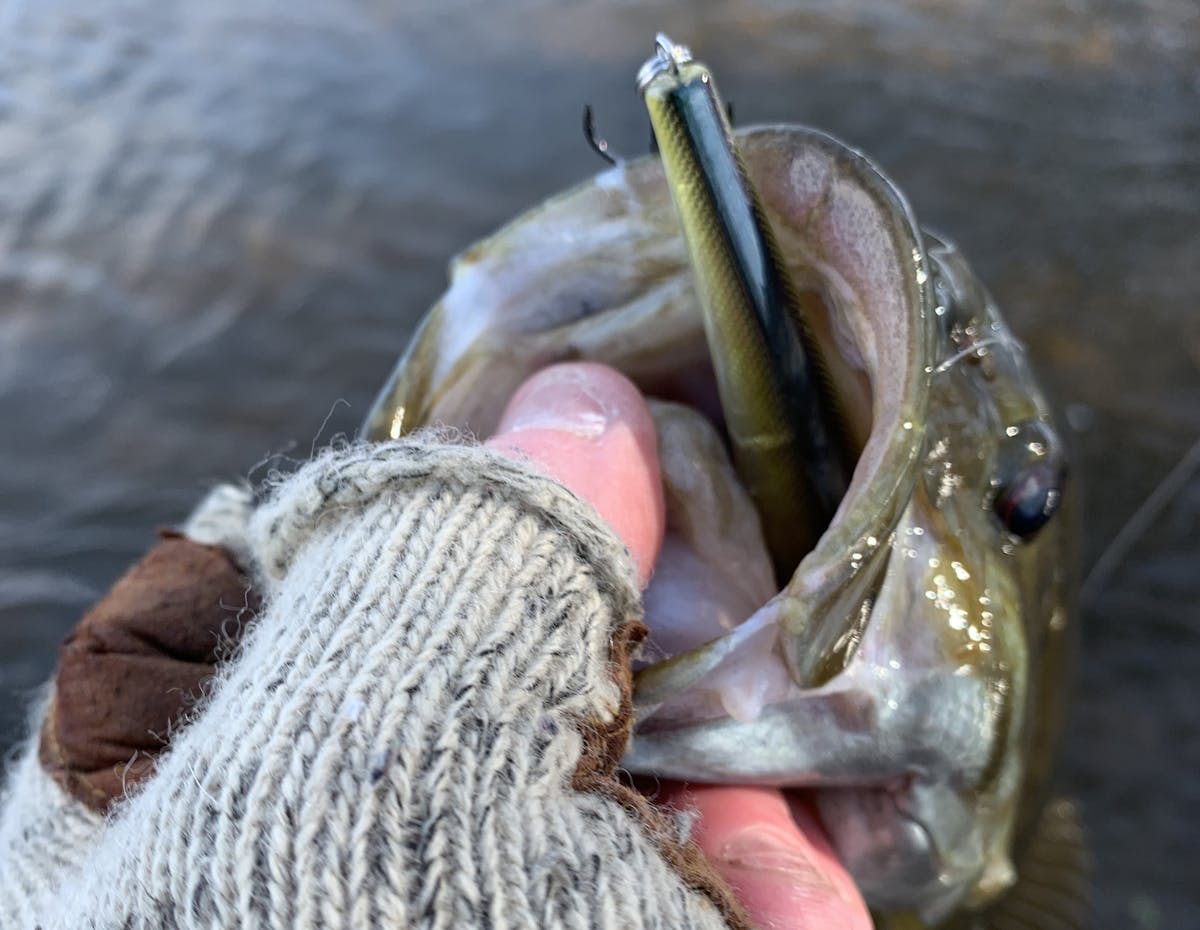 Small Box, Enough Gear
My box for winter smallmouth is small enough to carry in the chest pocket of my waders.
In it I carry the following baits: 
·  Shallow Jerkbaits like the Rapala Shadow Rap — This 3 ½-inch bait suspends on the pause, and runs shallow enough to cover depths from 3 to 6 feet.
·  2.5- to 3.5-inch Berkley Powerbait Power Tube — 1/8-ounce tube jigs—A great every-day bait for smallmouth. My best colors are green pumpkin and other natural colors.
·  Squarebills like the Strike King KVD Square Bill — I don't fish cranks often, but shallow-running squarebills work well when fish are on. Craw patterns are tough to beat.
Where to Fish
Wading is one of the best ways to really learn a stretch of river. Even small changes in depth seem massive, and you see and feel areas of less or more current. 
My favorite spots feature larger rock, the upper edge of deeper holes, and the outlet itself.
In many cases, the best spots to fish are right next to shore, even in water as shallow as a couple feet, so don't make the mistake of aiming for the middle of the river when casting. 
If fish are active, make casts slightly upstream and work the bait back slowly as the current pushes it downstream. Most bites are pretty obvious, but some are not, so raise the rod to check the bait each time it stops. Avoid setting the hook each time and you'll find it easy to get out of expected snags. 
If you are catching mostly small bass, try slowing down, even casting straight down stream and working the bait in place or slowly up-stream.
Tackle Needed
There is no real need to go light, even with the clear waters of winter. I often fish 10-pound braid like Berkley x5 as the mainline and go with a 10-pound mono or fluoro leader only when tying direct isn't working.
Heavier line allows me to get out of most snags and the less tying I have to do when it's cold out, the better I like it 
Spinning gear, with its larger guides, usually freezes up slower than baitcasters. In most cases you can quickly clear the rod guides by swishing the tip back and forth beneath the waters.
It's tough to beat a 6' 6" or 7' medium action spinning rod like the Fenwick HMX or Abu Garcia Veritas. For reels, Pflueger President XT in size 25.
You may experience issues with the anti-reverse on your spinning reel when it's really cold as the lubes used by some manufacturers thicken in low temps.
Warm Water – Multiple Species
One of the best parts about fishing warm-water discharges is the number of different fish species you will run in to.
On my last trip, I landed multiple carp that actually ATE my jerkbait. Channel cats are also common on most waters, as are walleye.
But it's the smallmouth I'm after. Those, thick, powerful, beautiful brown bass that fight hard in summer or winter.