By -- Josh Douglas, Bass Utopia Contributor
Every few years a new product jumps into the fishing industry and completely revolutionizes the game. There's always those "flash in the pan" types of products that hit the market like a freight train, cause a giant uproar and then flat line faster than a 12 point buck in my cross hairs. Those are definitely not what I'm talking about. I'm talking about products that come out like a freight train and then take off like a Boeing Jet. Products like Power Pole, an innovative device that completely changed the traditional anchor or Navionics Mapping, a chip you can load into your Lowrance that shows you contours of any body of water your fishing and HydroWave, an electronic device that mimics the sounds of feeding fish in order to stimulate the competitive feeding instinct. How my Grandpa ever caught fish back in the day will forever baffle me?
I started first hearing of the Hydrowave through hammers like Kevin Van Dam and Jeff Kriet, who were crediting the Hydrowave for their recent success. Then the word traveled north, when you have stud walleye pros like Mark Courts boosting his recent successes on the product, word starts spreading like wildfire.
Courts showed everyone that the Hydrowave wasn't just a one trick pony by consistently bringing in giant sacks of walleye and crediting the Hydrowave for the added one or two bites he needed to get over the top. "I've had unbelievable days with the Hydrowave, but generally, it'll get me that one or two more bites I need and at this level, those bites are the difference maker", explains Courts.
Since putting a Hydrowave on his boat two years ago, Courts has also made waves in the bass fishing world by throwing up a 2nd and a 7th the past two years at the Sturgeon Bay Open, an impressive feat to say the least.
Speaking of the Sturgeon Bay Open, this years winners, Darrell Greenwood and Steve Anderson, where two Missouri anglers that came up north with their Hydrowave mounted on their deck and chucked a Tennessee Rig to blow the field out with a two day weight of 67.13 pounds of smallmouth!
"We've been coming up to fish that tournament for over 15 years and our best finish was a 16th and 11th", explains Greenwood. "Over this past winter we had been having great luck on our home lake Table Rock using the Hydrowave, by catching a better sized average. We knew the smallmouth loved the sounds the Hydrowave made down there so we figured we'd use it up north and the results where there".
Greenwood and Anderson targeted drops on the outside of spawning grounds and managed two 7 pounders the first day and another 7 one the second. "There were over 20 boats around us", explains Greenwood. "We were culling in no time and others just weren't getting the bites like we were, we were culling and culling out good ones too".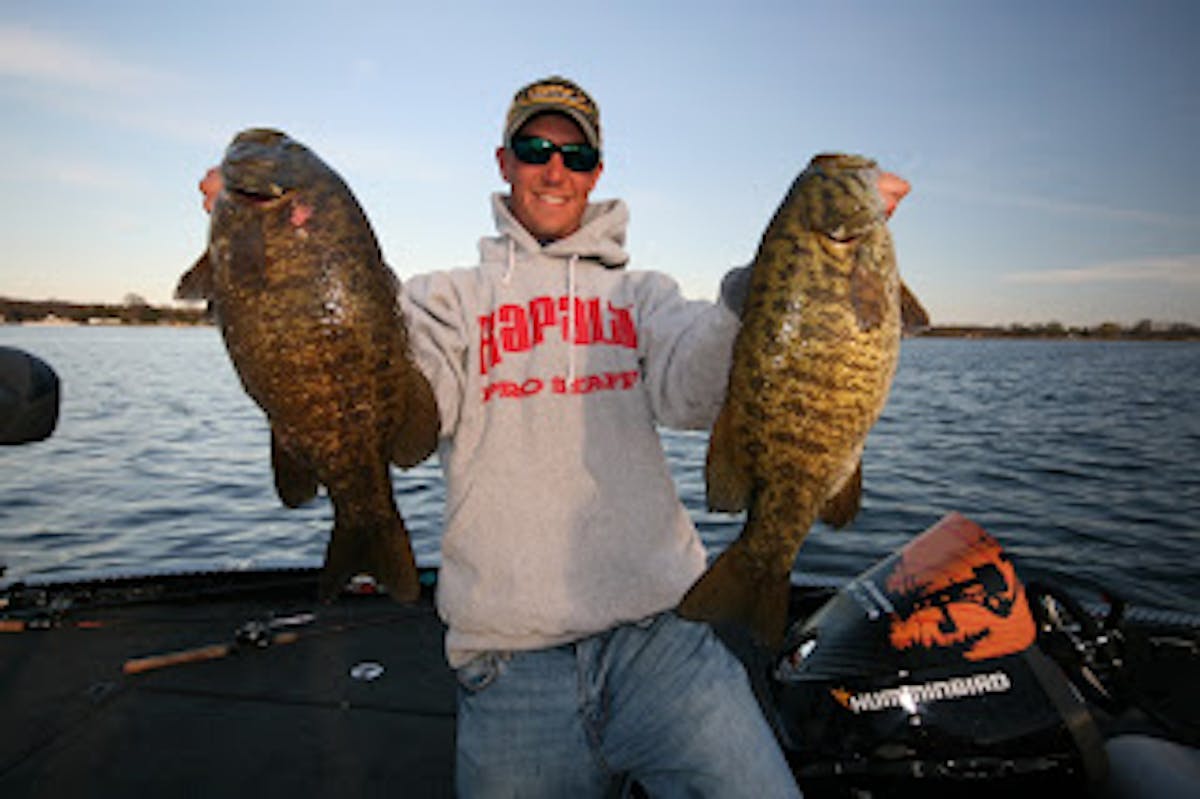 Rapala Pro Seth Feider, gave credit to Hydrowave after he and tournament partner John Figi recently took 3rd on Minnesota's, Green Lake by targeting smallmouth on steep breaks and throwing a Rapala XRap jerkbait. "I've been learning how to use the Hydrowave for a short time and seen some impressive results but that day the Hydrowave was clearly the deal", explains Feider. "We were holding the boat over 25 feet of water and targeting real fast breaks off of shallow spawning flats. I would see a smallie under the boat on my Humminbird sitting just off the bottom, then I'd see it streak up 20 feet on my screen and when I'd look up at my jerkbait, there it would be. One more twitch and fish on! The Hydrowave clearly called them up and generally smallies will get boat shy when they are only 5 feet away from the boat but that never happened once, they were committed to eating that bait."
The future looks bright for a company that has only been around for a few short years. What started as a southern bass fishing accessory has moved north, then spilled over into other freshwater species and now taking off in the saltwater world. Talk about a game-changer. I'm just excited to see what they have coming next.