We all have our bucket lists. If you are like me, which I'm guessing by the fact that you are reading this blog that you are, your bucket list consists largely of fishing items. Whether it's milestone size goals for your favorite fish, locations that you'd like to go, or species you'd like to catch, we all have our list. What makes life fun is when you get a chance to cross off one of those items. What makes like even more fun is when crossing that item off you add three more! For me personally, one of my big items was chasing Goliath Grouper.
For years I've watched YouTube videos one after another of people wrestling up huge grouper, and almost every time the fish was first visible I would shout "NO WAY!" at my computer screen like one of those people in the grocery store who converse with themselves about their list of items and debate out loud which onion looks better for sauteing. Actually, come to think of it, they probably look saner than I do while watching grouper videos. One thing was always a given though...at the end of each video I always said "Man, I need to do that."
So I did.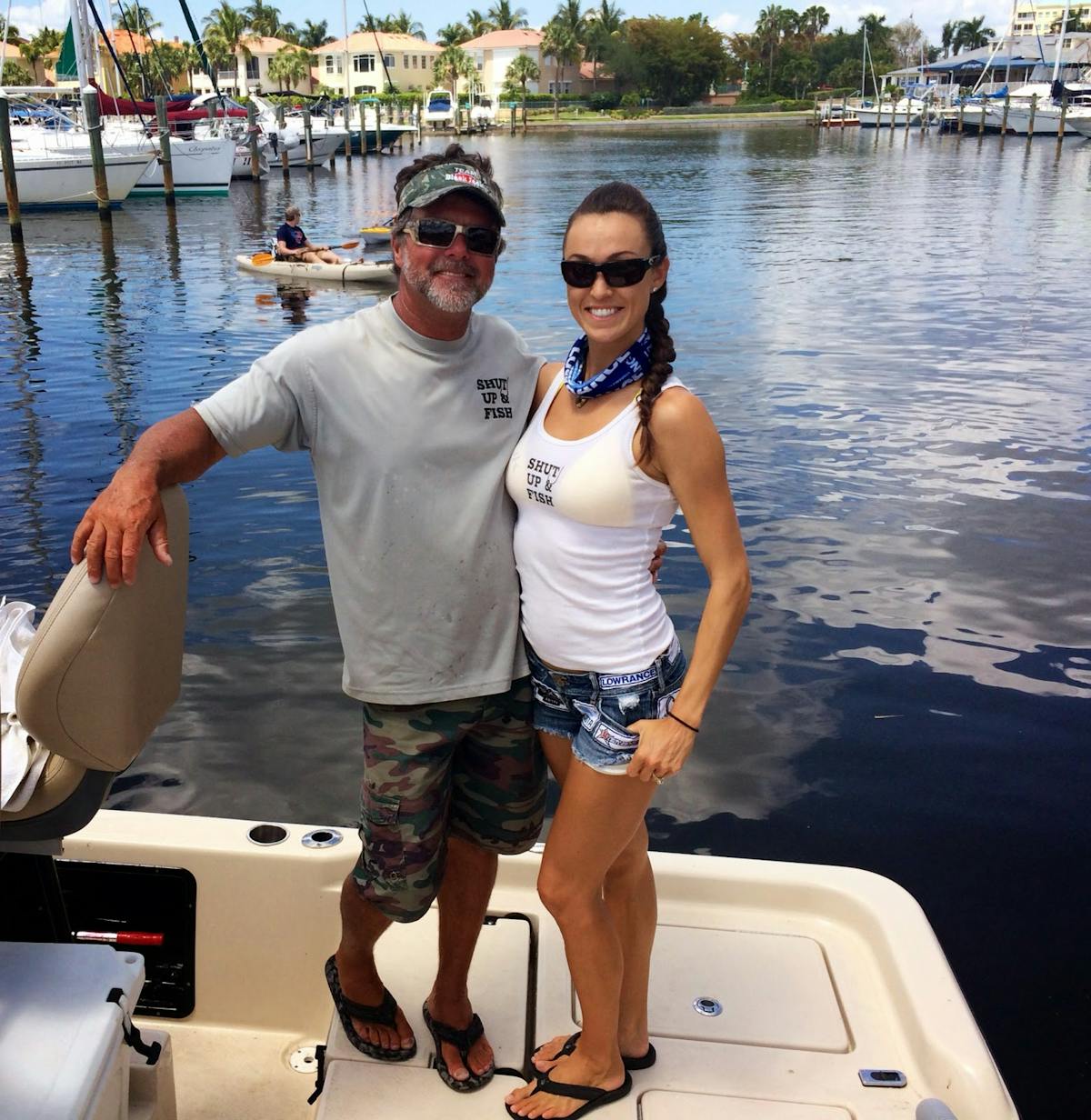 This past March, with the help of Huk Fishing, I got in touch with Tenacity Guide Service. Many of you may know Capt. Bo Johnson from his many appearances on fishing shows, including the famous World's Greatest Fishing Show when host Mark Zona took Kevin Van Dam shark fishing in the Florida Keys. Many of you probably also know First Mate Deirdra Bridger as, well, Deirdra Bridger, the social media fishing gal in the bikini. Don't act like you don't know... Here's a little secret you might not know though: she know's her stuff on the water! Don't let that getup fool you, she's a serious salt water angler!
First off, Bo was a rock star helping us not only plan our trip to the Fort Myers area and getting us on the water with Tenacity Guide Service, but also getting us set up with another guide, Capt. Tom Fisher from Fishbone Charters for a day of inshore fishing the following day. From the first phone call I had with Bo, I knew we were heading to the right place. He knew exactly when we should head down, and took great care of us when we got there.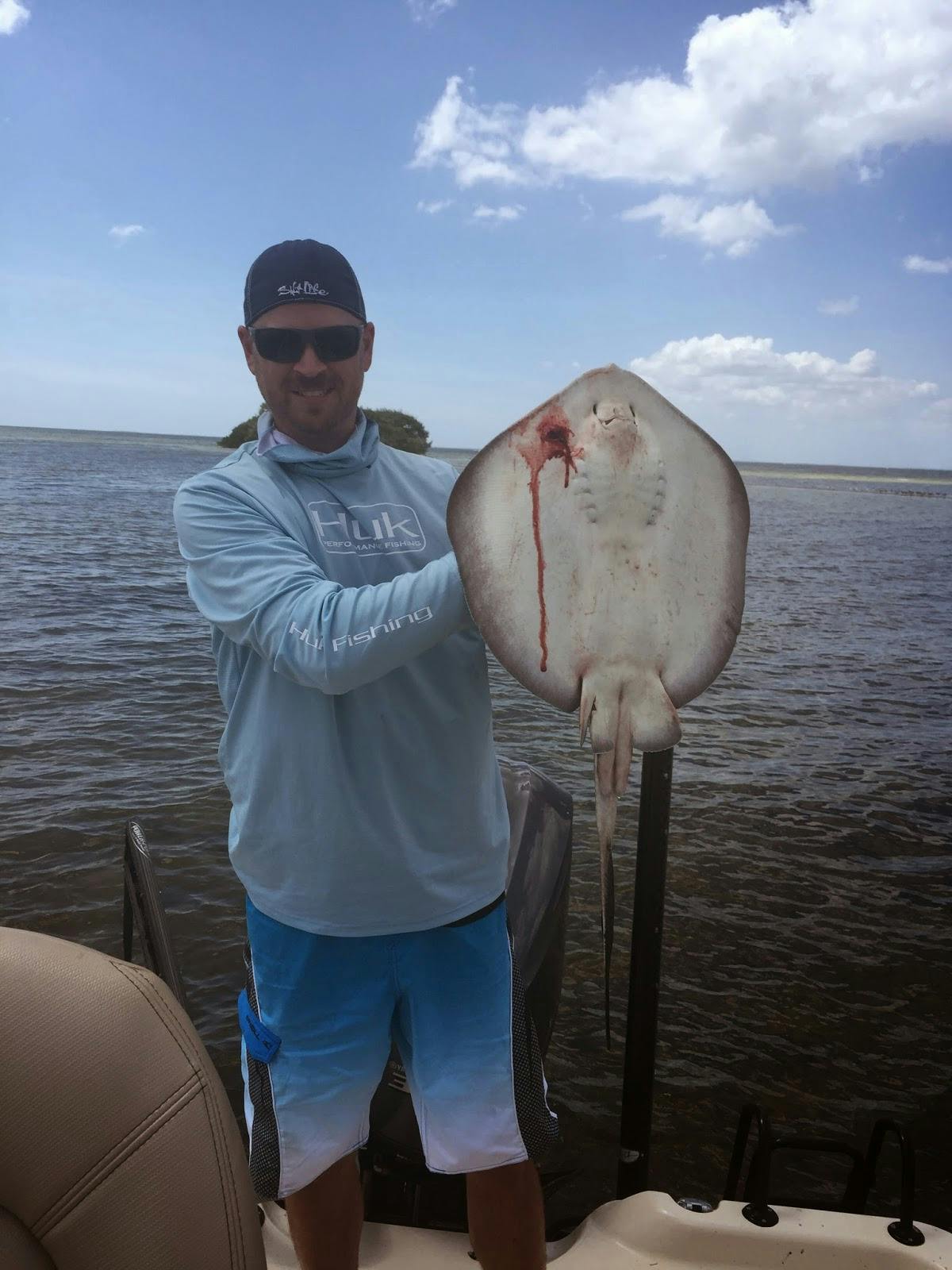 Our day started with a lesson on how to fish for our bait of choice for the day, sting rays, with a compound bow. Having spent very little time with a bow in my hands, I was pretty sure that this wasn't going to work out so well, but with some great teaching from Deirdra, I hit my first sting ray on my second shot! One bait down, several more to go before we headed out with our sights set on Goliaths and possibly a Hammerhead. After winging a couple more rays, I handed my bow to Bo and took over at the console to speed up our pursuit of rays, and ultimately our target species. Like clock-work, Bo took down the requisite number of rays to get us heading across the water to the land of the Goliath.
This is the point that reality sinks in and you realize that you are about to do something that is going to be a life experience.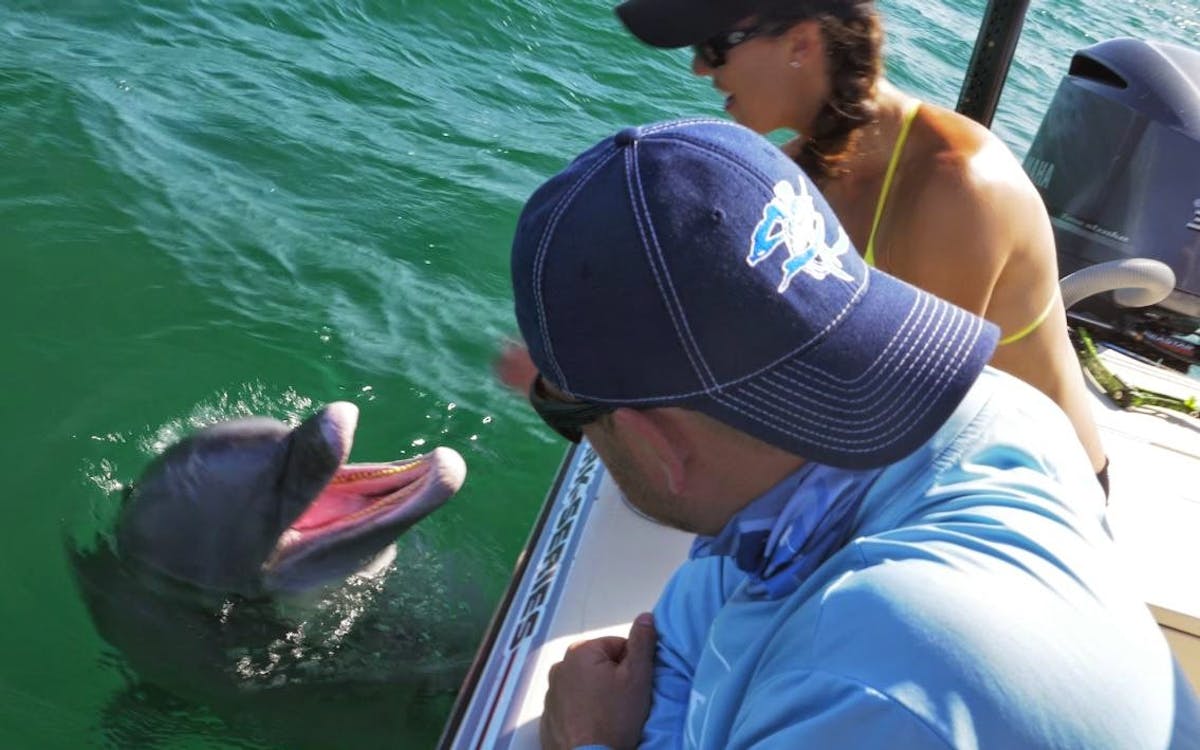 After a run across the bay out to an area near Boca Grande, Capt Bo readied the gear for the tug-o-war that was pending under the surface of the calm Gulf-fed waters. While waiting we were greeted by a Dolphin, locally known as "Friend", who put on a show for us doing spins in the water and popping his head up to say hello. Bo warned that it is illegal to feed or touch the dolphins, but it sure seemed like this guy just wanted to hang out and swap stories. Shortly after our conversation with Friend, we got a quick visit from a Manatee as well. This whole time the Tarpon were busting the surface all around us. This trip was already like something out of a storybook for me. It was surreal to see all of this beautiful water teeming with beautiful sea life. Minnesota seemed a lifetime away as the salt water melted away real life and presented an excitement that I've rarely felt before.
A quick lesson on how to manage the fight with the Goliath Grouper, and I was seated in the front of the boat awaiting my first chance at an epic battle.
The bites were fast, but none were committed enough to engulf the whole sting ray that we were so generously offering. A few near hook ups, and Bo made the type of call that you need any good guide to make. There is that moment that, as a guide you just know something needs to change. Bo decided that we needed to downsize our bait, which meant more bow fishing for rays. Thankfully, after a short run, Bo made quick work of some smaller rays and had us back to our spot in no time.
Smaller ray in place, we lower the snack down and like clockwork, it got hit like a freight train, but this time, it wasn't coming unglued!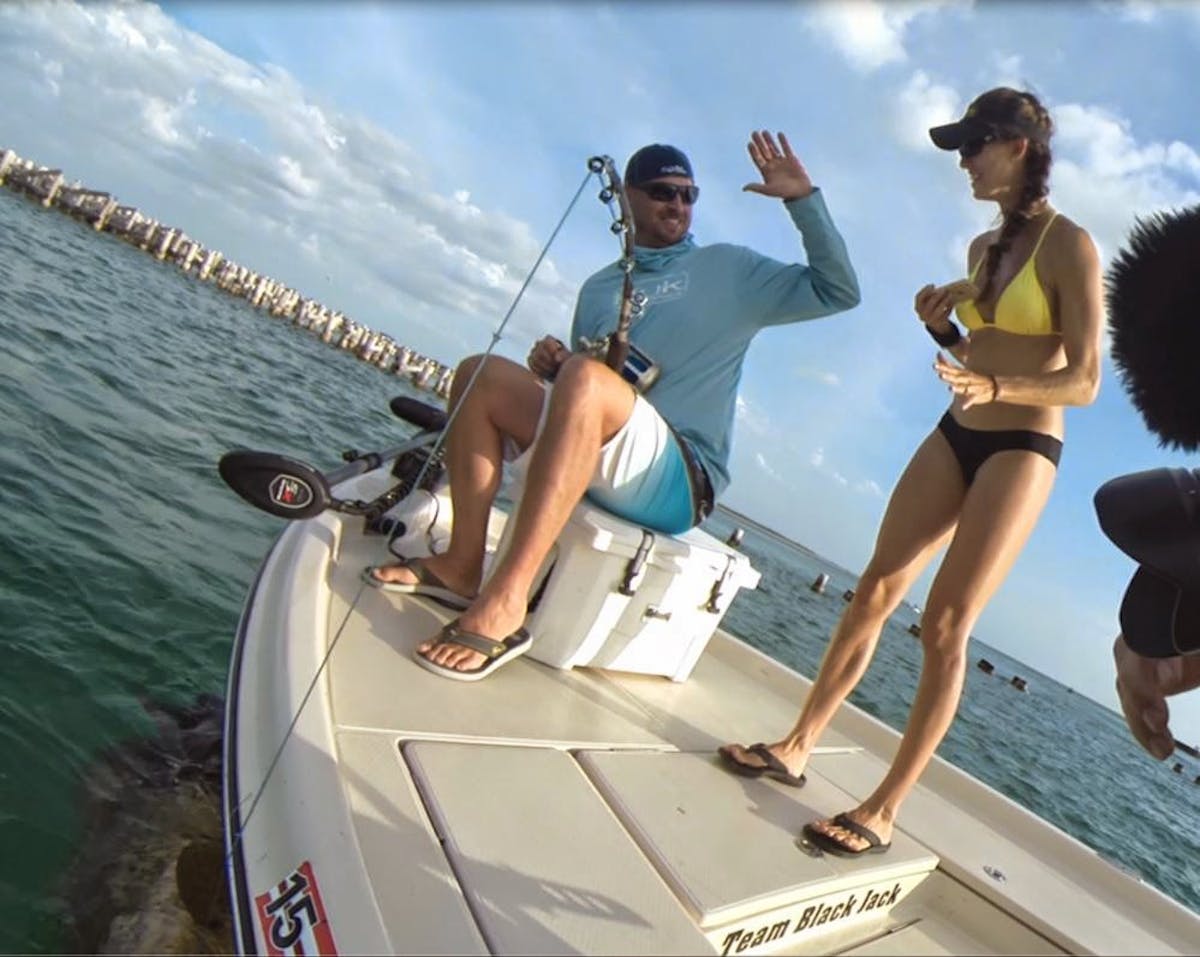 The one thing I will tell you about the next ten minutes of my life is that it was a blur and involved a
lot of straining, grunting, and a strange sense of survival as I fought what I was sure would be a 400 plus pound fish to the surface. The power of these grouper is absolutely not explainable. Seriously. These fish are built like tanks and have a very powerful rounded tail meant for pushing a lot of water in a very powerful manor. Fighting a Goliath Grouper is an overwhelming experience that anyone who loves and respects fishing the way I do should have the chance to do at least once. 
After a very intense battle, I raised the fish to the boat to find what Bo estimated to be a 150 pound fish.  A beautiful amazing creature, but what?! Only 150 pounds?! I couldn't believe it...how in the world does anyone get a 400-500 pound fish like that t the boat?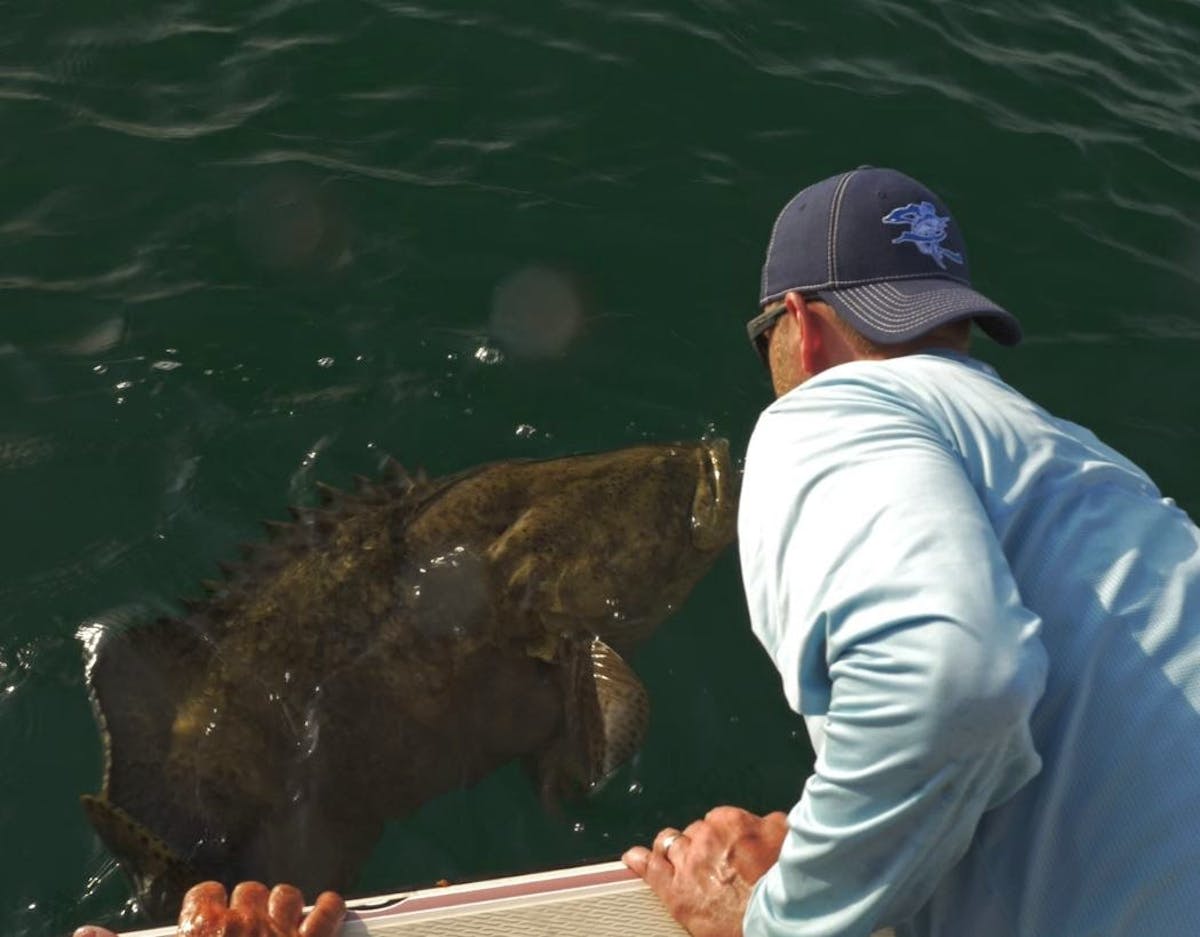 The day turned to night and saw us fight a giant Goliath, ultimately having the hook pull after he found a cave to hunker down in. We also landed one more 150 pound class fish before we eventually headed back to the marina and a well deserved dinner at the docks.
The video that we shot that day is in edit as I write this blog entry, and to say that I can't wait to see the finished product would be like saying my kids are mildly excited on Christmas Eve. The experience that I had that day on the water is one that I will hold on to my whole life. I'll tell my kids and grand kids about that day until they are sick of hearing it. Or in a perfect world, they ask to hear it again and again because they are as in love with this sport as I am.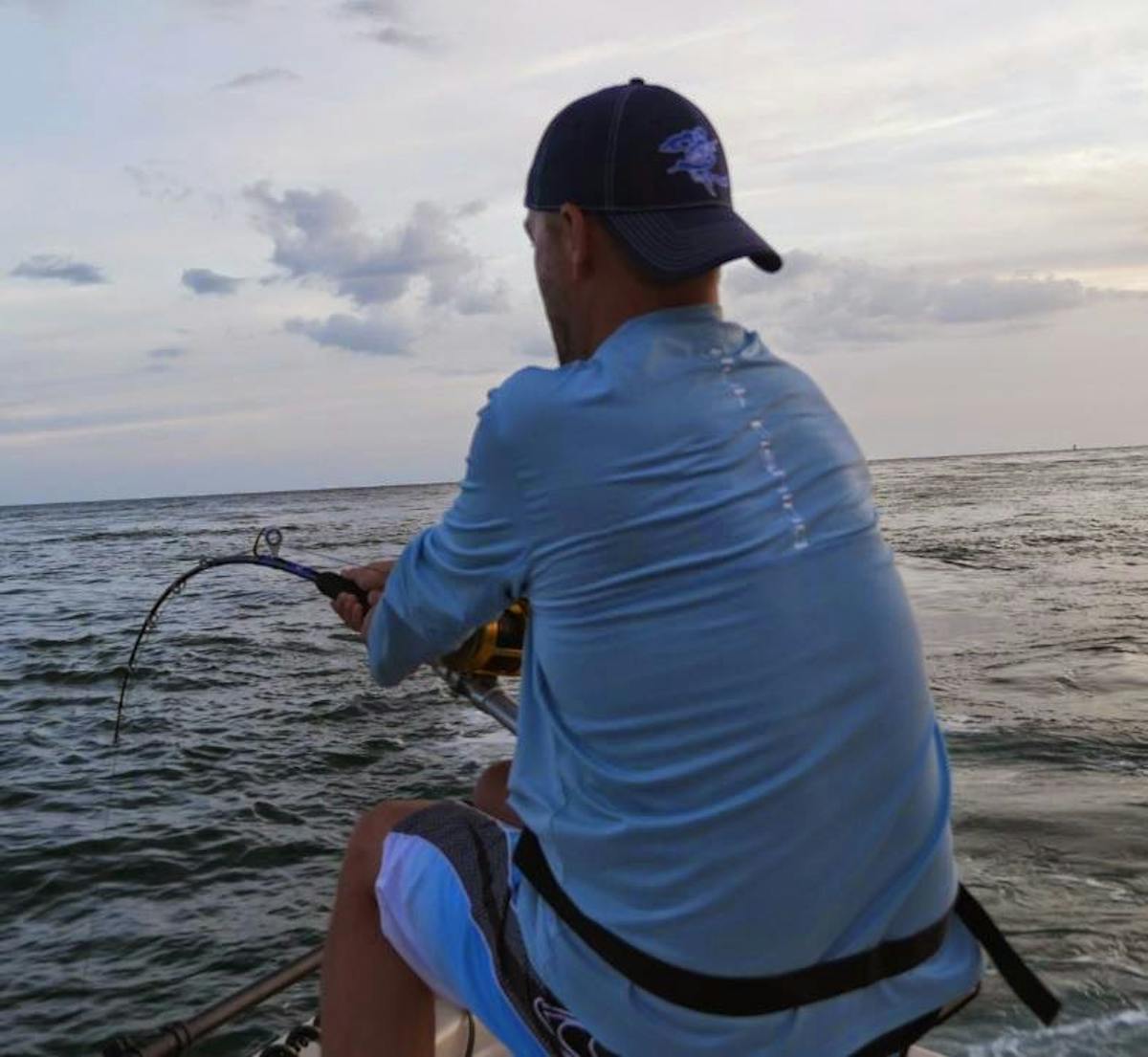 I can't thank Tenacity Guide Service enough for their efforts, and hospitality. Capt Bo Johnson and First mate Deirdra are the prefect team, and made our day more memorable than we ever expected it to be. I am honored to call these two my friends and have kept in close contact since leaving. We are already talking about getting the next trip on the books, and I promise you that is going to happen! 
Do yourself a favor. Call Tenacity Guide Service up, find out when they are available to take you out for the best, most memorable, day of fishing you may ever have, and book them now! Trust me, they fill up fast, so get on it. 
Stay tuned for the upcoming video on our YouTube channel!