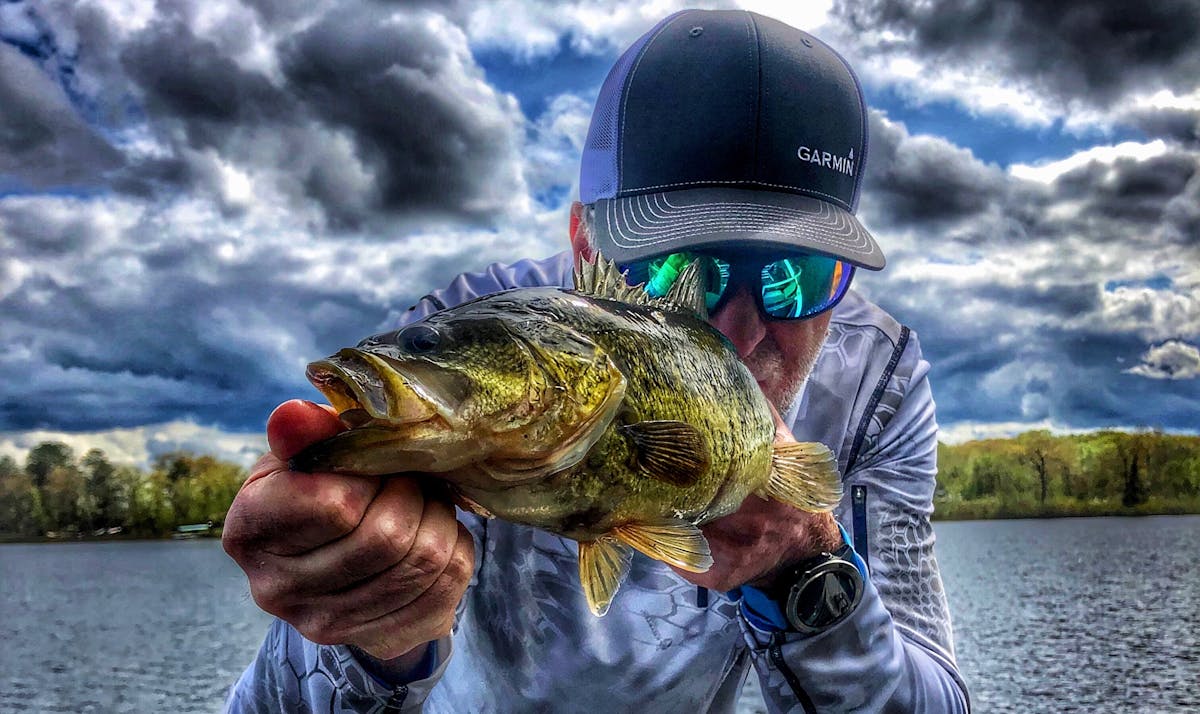 Not long ago I was in the boat of a touring pro with an electronics sponsor other than Garmin, so I was surprised he had a Garmin unit installed in the bow. 
"LiveScope is too valuable not to have," he answered without me even asking the question.
Other anglers must agree as sales of Garmin LiveScope are brisk.
LiveScope is not cheap. MAP pricing is $1,500 for the LiveScope transducer system that comes with the Panoptix LVS32 transducer, GLS10 sonar box and trolling motor (shaft) and transom mount mounting brackets.
You'll also need to purchase a Garmin sonar unit that is LiveScope compatible. Those currently include the EchoMap Plus 7" and 9" units, an EchoMap Ultra unit, and all of the GPSMAP series units.
The EchoMap Plus 7" models start at about $500, so you are looking at about $2,000 minimum to get into LiveScope. Ice anglers are paying $2,800 for the LiveScope Ice Bundle. 
The question is, is LiveScope worth it?
First Impressions
The first time I used LiveScope was in late fall 2018. We were targeting suspended crappie and located a large school in a couple deep holes (50" plus). The shallowest fish were 35 feet down.
Using LiveScope in the Down position, I dropped a small jigging spoon to the fish. It was fascinating to watch individual fish, not blips or firing pixels, approach the bait in real time. Some fish made a mad dash to the bait, others slid up slowly, and still others ignored me completely.
What stunned me was how active the fish were…I had always pictured fish as somewhat stationary while suspended.
A few weeks later, I pulled the Garmin LiveScope black box and transducer out of my boat and built an "ice bundle" using a 9-inch Garmin EchoMap Plus unit and a couple Dakota Lithium batteries
The very next morning, I was ice fishing over a shallow flat on Mille Lacs, jigging a rattle bait for walleye when a fish appeared on the screen. It rose slowly from the bottom and as soon as it cleared bottom, I could clearly see it was a nice pike (could see its sloped head, fins, forked tail, everything)! What's more, I could judge its relative length (28 to 30 inches) using Garmin's grid patterns on the screen.
Yea, I was blown away.
Pattern Built
In most cases, I use LiveScope in the Forward position, which allow you to scan 100 feet and more in ideal conditions to look for fish. I also use it to determine the distance to things like break lines, weedlines, brush piles and other cover that are key to target with precision casts.
Forward works best in waters over 10 feet deep, and I really like it in 15 to 40 feet of water.
LiveScope's coverage in Forward is 20 degrees port to starboard, and 135 degrees down and forward. That means it covers a swath of water that is 22 feet wide and to the bottom out 60 feet from the boat.
That narrow cone angle makes it easier to target individual fish when casting.
Several times last season, I used a side mounted LiveScope ice bundle to locate walleyes out to 60 feet from the boat, then would cast a bobber/jig/leech combination to the fish. In most cases, I could watch the jig/leech fall to the fish and watch their reaction to its presence.  
In many cases, the fish would rush the jig immediately and take the bait. In other cases, they would rush the baits, only to turn at the last second. There were also fish that ignored the bait or even were spooked by it.
One morning, I had three consecutive fish rush the bait, only to reject it at the last second. That's when it hit me…they didn't like my 1/32-ounce chartreuse jig head! So, I immediately switched to a muted black/brown, and the bite was lights out the rest of the morning.
This article is the first part of a 2 part series on Garmin LiveScope. You can read Part 2 HERE.