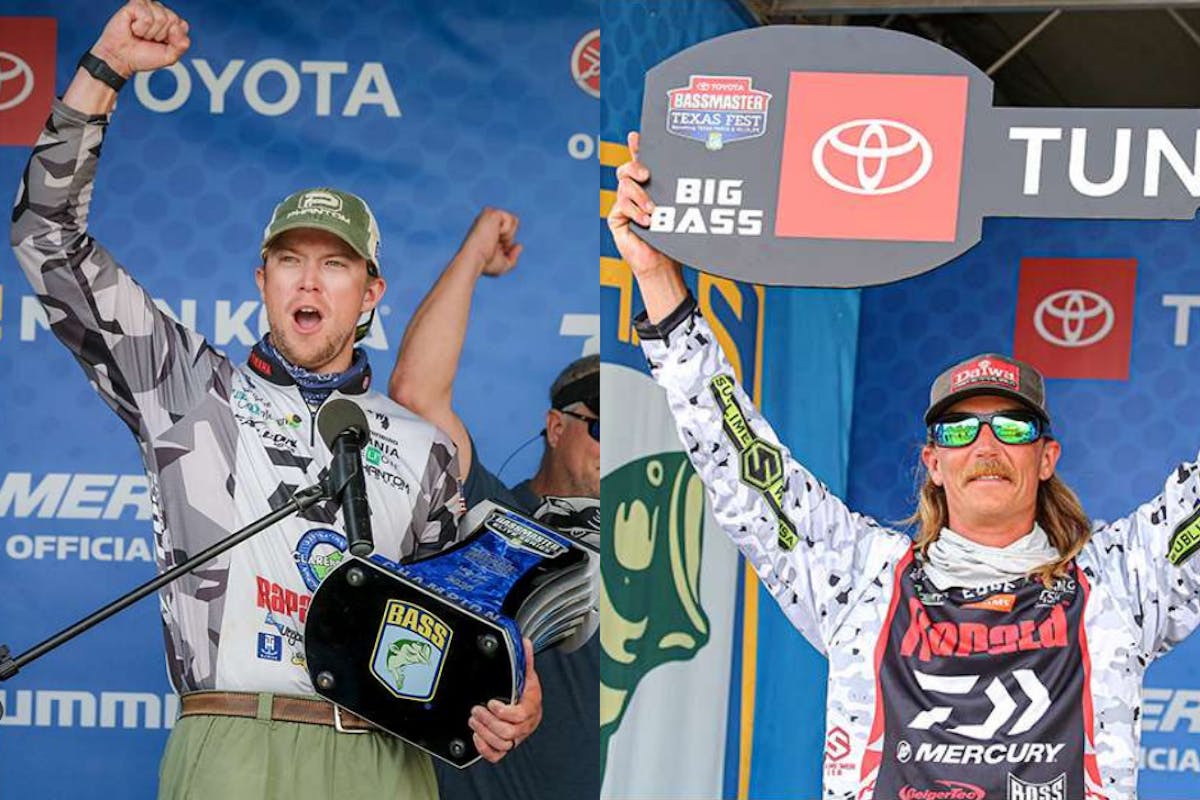 As the Bassmaster Elite Series came to their final stop of the 2020 trail, the talk around Lake Fork was that the bite was going to be tough. That proved true for every angler except one, Patrick Walters, who won by the largest margin ever in an elite series event. A mere 29 pounds - 10 ounces. He finished the tournament by breaking into the century club with a total weight of 104 – 12!
Finding patterns during the fall can be tough as bass transition to their wintering holes. Many of the anglers chose to focus on shallow structure in hopes of connecting with a Lake Fork giant. The one outlier… Patrick Walters.
All by himself, Walters continued with a jerkbait pattern he had been utilizing for a couple weeks down south. "I already had them tied on from my previous tournament on Cherokee so it was an expansion of that pattern," Walters said.
Walters spent most of his time focusing on suspended bass in the timber. "The majority of my fish came in 10-20 foot depths but caught them in as deep of water as 40 ft and as shallow as 2 ft." He relied heavily on his forward-facing sonar to search and see the fish before making a cast. Then he would keep his eyes glued to the screen to see how the fish would react and adjust cadence or bait colors to trigger a strike.
More info can be found on that specific technology here.
To say he was dialed in is an understatement. He had 6 rods on his deck that had jerkbaits tied on. Three rods with 12-lb fluoro and three others with 14-lb fluoro. "I had a heavy cover setup and an open water setup. I went to 12-lb flouro in open water because I felt it allowed the bait to get down deeper and have better action." When throwing at timber he would opt for the 14-lb to help rip the baits through the thicker cover.
As far as color choices go… early in the morning he would use a more solid white option that would provide better contrast in low light. Then he would switch up to a more translucent pattern as the sun got higher in the day and visibility increased.
Jerkbait Setup
Rod 1: Daiwa Tatula Elite 7' ML
Rod 2: Diawa Tatula 7' ML
Reel 1: Daiwa Tatula SV TWS (8.1:1)
Reel 2: Daiwa Steez CT SV (8.1:1)
Line: Sufix Advance Fluorocarbon (12 and 14lb)
Even though the outlook for the tournament was tough there was a lot of optimism on big bass because Lake Fork has them!
Seth Feider was the angler that connected with the biggest, a 9-pound 9-ounce bucket mouth that earned him a brand new Toyota Tundra.
"all of my big bites came from shallow cranking flat points that had a little bit of wood on them. That 9-9 was my first catch of the tournament," Feider said.
He was using a newly released Rapala flat sided crankbait to focus on the tips of those flat points. "for the most part I was making contact with the bottom, then I would sometimes move out a little deeper so my bait would tick the tops of the stumps." 
Feider followed that pattern up each day by targeting docks with a chatterbait, making sure to get his bait in the shadiest part. "I would throw it in there and let it fall for half a second before I started reeling, straight retrieving it through the brush and pilings under the dock."
The combination of big crankbait fish and the chatterbait bite were good enough to get him to 11th place with a total weight of 48 – 4 for three days.
Cranking Setup
Rod: Daiwa Tatula 7'4" H Glass
Reel: Daiwa Tatula SV TW103 (7.1:1)
Line: Sufix Advance Flouro (12lb)
Chatterbait Setup
Rod: Daiwa Tatula 7'4" H Glass
Reel: Daiwa Tatula SV TW103 (7.1:1)
Line: Sufix Advance Flouro (17lb)
Congratulations to both anglers for finishing the year off strong. For more tournament information check out bassmaster.com!